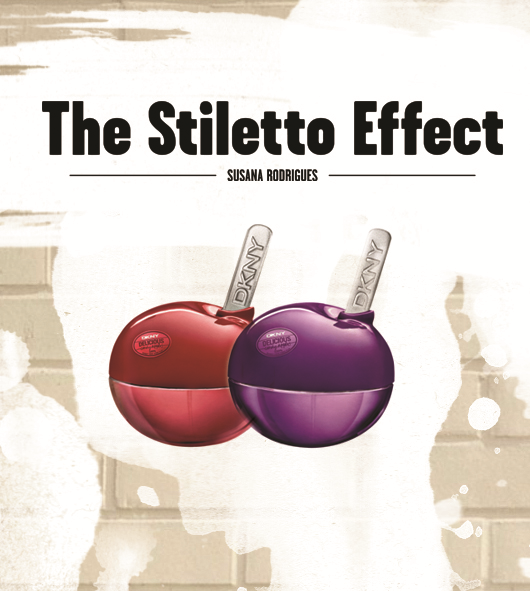 "O Be Delicious Candy mereço ganhar
pois 5 sentidos em mim consegue despertar:
Visão: relembra-me as cores vibrantes da noite da cidade de New York
Paladar: fico com vontade de saborear um delicioso brunch nova-iorquino
Tacto: o toque desta fragrância consegue arrepiar cada poro da minha pele
Audição: recorda-me o barulho da agitação da noite da "Big Apple"
Olfacto: o aroma deste perfume leva à excitação os receptores odoríferos das minhas narinas"
"Sou uma amante de moda, e amar moda é muito mais do que amar roupas, é amar tudo aquilo que nos faz sentir especiais e únicas, seja uma camisola, um colar ou um perfume. Um perfume passa a ser mais do que uma fragrância, passa a ser uma extensão de nós num novo sentido, o olfacto, e nada melhor do que o Delicious Candy para ser o que nos define, um cheiro doce e cheio de personalidade. É por isto que devia ser eu a ganhar este perfume, porque sei o quão valioso e especial ele é, e tudo o que pode fazer por mim."
"Todas nós gostamos de cheirar bem e andar perfumadas, todas nós sabemos que o perfume be delicious candy da DKNY, não é apenas um perfume, é uma companhia em todas as horas e nos momentos felizes. Tal como sem música a vida torna-se um preto e branco, nada melhor que este perfume para a preencher com aromas doces e duradouros e delicados, dignos de qualquer mulher. Com este perfume a acompanhar-me a minha vida vai-se tornar mais doce, colorida, e mais animada!!"
Patrícia Dias
Delicious é o meu nome do meio
Um cheiro é uma impressão digital
"Eu mereço ganhar o perfume
Porque dia 20 vamos festejar
Desde que começamos a namorar!
"A Primavera está a chegar
E todos os cheiros e sabores
Um perfume vinha mesmo a calhar
E se possível o B Delicious
podiamos fazer um bom par
prometo dar-lhe todo o meu carinho
e arranjar-lhe um bom lugar
Todos os dias o seu aroma
e o meu Mulher Hiper Feliz sindroma
Be delicious.. be fantastic.. Be who you want to be.. Be YOU!"